Rent a Minibus
Ideal for your trip with friends or colleagues.
Minibus hire at Albus
Our minibuses are ideal if you want to travel in a small group. It will easily transport up to 20 people to the desired destination. Of course, a competent driver is included. Our minibuses are often booked e.g., as a shuttle for wedding parties or for excursions with friends. The 8-seater and the slightly larger variants are also ideal for transfer rides. For example, we offer winter transfers to skiing resorts and transport ski luggage. Do you want to know more about the surrounding area while riding on the bus? Then use our bus service with driver guide. Our knowledgable driver guides are available for our 7 and 8 seaters.
Minibus rental without compromising on comfort
Multi-day trips, for example with the family, are no problem with a minibus. It offers a high level of comfort for the passengers and sufficient space for luggage. You can also book a trailer for excess baggage. Our minibuses are air-conditioned and equipped with tinted windows. Moreover, they have upscale leather seating, and the tour guide seat is equipped with a microphone.
Your minibus hire advantages
• Ideal for small groups of up to 20 people.
• Perfect for transfers and as shuttle bus.
• Multi-day trips and tours possible.
• Driver Guides bookable on request.
• Ample space for luggage, excess luggage can be accommodated in a trailer.
• High level of comfort.
Renting a minibus with or without driver is so easy! Request an offer for minibus hire tailored to your needs today and rent your minibus from Albus.

7-seater Premium Shuttle for small groups
Small groups of up to seven people travel comfortably with our 7-seater Premium Shuttle Bus. Rent the bus for a private trip or for a business trip and enjoy a high level of comfort. Our high-standard buses allow stress-free and pleasant travel.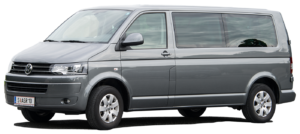 Comfortable travel with the 8-seater Premium Shuttle
Our 8-seater Premium Shuttle is ideal for small groups of up to eight people. All seats are equipped with seat belts and the bus is air-conditioned. In addition, you can enjoy the onboard radio / CD system including microphone as well as GPS navigation.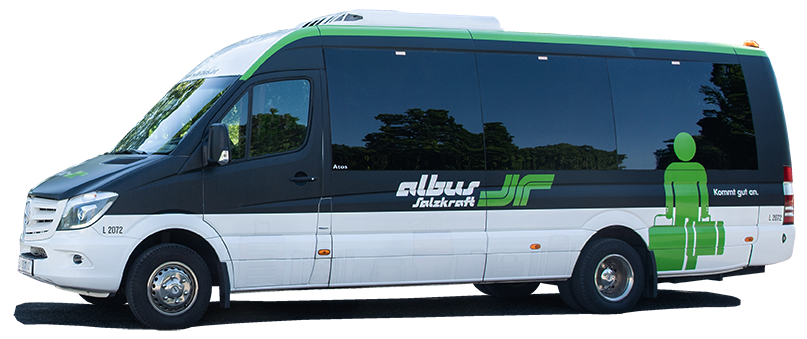 18 to 20-seater for medium-sized groups
This bus is ideal for corporate events or small travel groups. It offers adjustable seats for sleeping and a comfortable tour guide seat. You also benefit from comfortable legroom and individually adjustable footrests. Thanks to the auxiliary heating and air conditioning, this bus is a great option all year round.